An Opportunity to Work, Learn  &  Grow with SPARRC
The SPARRC Institute invites young, enthusiastic, energetic personal to join the Leaders in Sports Medicine. Seeking Physiotherapy Professionals & Fitness trainers who believe in our goal and who share our commitment by providing quality care all times. Our services provide holistic approach, our ideas and philosophies are different from other health care organization. The aim of SPARRC Institute is to provide the right environment and optimally trained personnel for the care of the people preventing their transition into permanent patienthood. Sparrc's strength are Surgery less techniques, aqua therapy, reiki healing, yoga, special exercise therapy etc, this is where we stand unique.
Best part is that you will be trained directly by our expert Dr Kannan Pugazhendi who has over 25 years of experience in this field. He has treated over 5,00,000 Patients and trained about 10,000 fitness professionals. So do you have it in you? If yes you are the right person read further…. Specific therapy resources include evaluations, consultations, intervention program establishment and management, skilled hands-on care, adaptive equipment and family/caregiver training. These services are provided both in-office or corporate environment, as well as at our rehab centres.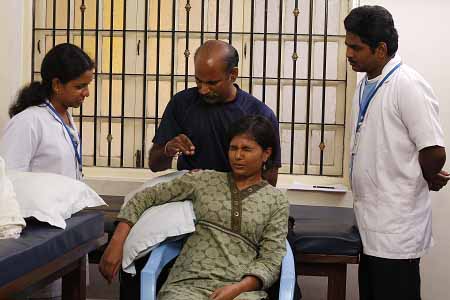 Sparrc offers:

• Highly Competitive Base

• Onsite opportunities (skilled professionals are sent to serve overseas clients)

• Incentive Bonus Programs

• Direct Training by our Fitness expert Dr Kannan Pugazhendi

• Equal Opportunity Employer M/F/D
We would encourage you to check out "About Sparrc" & our "client testimonials" for better understanding of who we are and how we serve. You may forward you resume to "HR@Sparrcinstitute.com"