Notable Entrepreneurs: Business Line Featuring Dr & Sparrc MD Sujatha Pugazhendi


Click here to go to Business Line article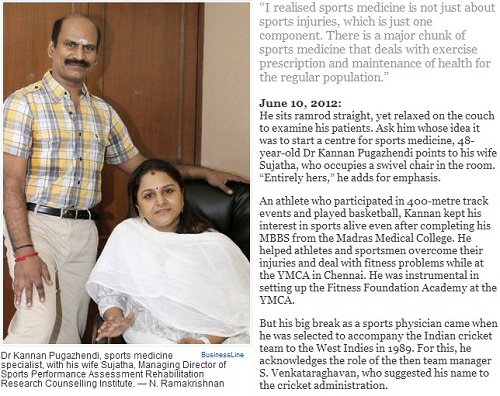 Then on there was no looking back. Kannan accompanied the Indian hockey team to the 1996 Atlanta Olympics and then for the World Cup hockey tournament in 2002.
Kannan points out that there was hardly anything known about treating sports injuries, while he was in medical college. Most often, sportsmen were referred to regular specialists. "I realised sports medicine is not just about sports injuries, which is just one component. There is a major chunk of sports medicine which deals with exercise prescription and maintenance of health for the regular population," says Kannan. He recalls reading up books on sports medicine and injuries. He also obtained a post-graduate qualification in sports medicine from Australia.
But why did he choose to concentrate on sports medicine after obtaining his medical degree? "I was an athlete and a sportsman. That passion to continue the sport and the obsession with medicine was the ideal combination that I could bring about," he says.
Sujatha, 32, who has qualified in physiotherapy and is now pursuing a master's in the subject, joined the YMCA around 2004. That is when she noticed the work being done by Kannan and the respect he enjoyed among athletes and sportsmen who came to the YMCA to train. "Doctor," she says, "had a wonderful way of working with the athletes."
However, Kannan and Sujatha realised there were limitations at the YMCA. "That was the spark for SPARRC," she says, explaining the rationale behind setting up the Sports Performance Assessment Rehabilitation Research Counselling Institute. It started off with one centre in a posh residential neighbourhood in Chennai with four employees three years ago. It has grown to three centres in Chennai besides those in Coimbatore, Hyderabad and Bangalore. SPARRC has 120 employees, including nearly 70 physiotherapists.
FUNDING
Ms Sujatha is quick to reply that they have relied on their own funds for the venture, and adds that she is not comfortable going in for external funding, although there have been numerous offers. SPARRC works out of rented premises with the investment in each facility being about Rs 35-40 lakh on equipment. The business fends for itself, she adds.
SPARRC now treats about 1,500 patients a month at all its centres . A majority of the patients are not just sportsmen or athletes, but those from the general population. Visit its fitness centre, you will find elderly men and women, some well into their 70s, diligently going through the various stretching exercises, under the watchful eyes of the trainers. You will also find the calorie-conscious working away on the various equipment.
Kannan points out that SPARRC's main area of work is to avoid surgical intervention in the case of injuries. On examining the patients, he tells them whether surgery can be avoided and the course of treatment to be followed. "We have avoided knee replacement surgeries in at least 500 people. I have put them through a regimen where the muscle gradually becomes stronger so that they can walk normally," he says.
He credits Sujatha, who is incidentally the Managing Director of SPARRC, for the smooth running of the institute.
"I can only diagnose the problem and tell the physiotherapists and trainers what they need do. The headache of running the place is hers," he admits, candidly.
Both of them are aware that the centre is dependent entirely on Kannan. "The drawback that we have is that we are so much dependent on Doc as everything revolves around him. His time is limited," says Sujatha.
That, however, does not dim their ambition to go national. Finding the right quality of physiotherapists is another challenge that SPARRC faces. Kannan says the institute trains its physiotherapists, all of whom have a bachelor's qualification in the subject.
FUTURE PLANS
"What I would like to do in future is to document how my treatment has worked so that it is made a part of medical practice," says Kannan. This, he adds, will prove the scientific authenticity of the treatment method he advocates.
He would also like to see sports medicine becoming a part of the mainstream medical education, so that a larger number of people can be treated for their injuries without having to undergo surgery.
Courtesy : The Hindu Business Line,  Click here to go to the original Business Line article