Workshop on Ergonomics (September)
MODIFY your EXTERNAL world to suit your INTERNAL! @ SPARRC, as we welcome one and all to our Workshop on Ergonomics, packed with info on the ways and means to refine and rearrange our home/working space to prevent repetitive injuries.
It's two hours of packed information on ergonomic suggestions to prevent repetitive injuries of your functional environment and work related musculoskeletal disorders. Home or workspace is no different, demanding participation mentally and physically. Ergonomics is essential to make life less complicated by modifying your external world to.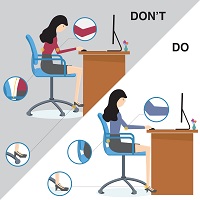 Venue: SPARRC Besant nagar
Date: 1st of September 2018 at 10 am.
Call us at 9840001721 to register