Life Is For Living
Life is for living and not just for existing! Dr.Kamala Selvaraj lives by this saying and believes the most important, richest wealth of mankind is to give life, the most beautiful wealth a man or a woman can ever accumulate in their lifetime is their children. As most of us may already know she is a pioneer in InVitro Fertilisation and Embryo transfer having accomplished South India's first ever Test Tube baby conceived naturally. In this edition of our newsletter we share an excerpt from her successful journey, the story of how her dreams came true. Her daughter Dr.Priya Selvaraj also throws some light on the real cure that can come from a doctor as the support and courage they give to their patients during their most trying times.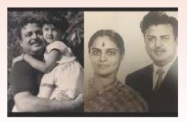 How did it all begin, your inspiration behind this wonderful journey?
I was very fond of drawing and painting and was keen to become an artist. My teacher Ms. Emma Devapriyam taught me about the artistic curves and constructions of temples and churches, the use of the brush with pastel colours. It was so peaceful and soothed your nerves and gave serenity,it could make you a different person. But my destiny was different. I wanted to put my foot prints in the time of life. Both of us, my sister Revathi and me, wanted to fulfil my dad's dream of becoming a doctor. We were very good students but we belonged to the forward caste and were therefore refused medical seats. However fortune smiled our way and my father got us into Kasthurba Medical College at Manipal. He did it for his children and we were thrilled! I sadly bid farewell to my favourite teacher after I conveyed the news to her. Eventually I lost contact with her after she migrated to Australia. I used to write to her once a year. At that time I didn't realize she was going a play a promising role in guiding my life and future, for it was she who guided me to Monash University. When you put your faith fully in God and work hard towards your destination, nothing can really fail. I came across a small column on the world's first test tube baby in The Hindu paper and realized I wanted to learn more about it. I was curious, eager and craving to learn more. Then I wrote to my favourite teacher at Melbourne who wrote back to me saying that a doctor named Carl Wood was teaching people all about the "Test tube baby" and if interested I could contact him. She also furnished me with his address. I contacted him and enrolled for the workshop with my teacher guiding me every step of the way towards success. The workshop was  very expensive but the thought of removing the grief of childless couples gave me the strength to take bold steps further.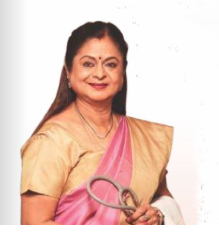 A peek into your childhood?
Childhood days can never be forgotten in one's life, it is always a pleasant memory. The upbringing given by our parents gave us a lot of courage and confidence. I remember that I was always bold and my elder sister timid. Those days I had no dreams, no ambitions and no goals. But when we both completed our medical course, things turned the other way. I became very timid and nervous and my sister became very bold. As you grow older, you get scared of life as you are loaded with responsibilities and duties.
Gone are those days when my father used to take both of us to the beach every evening and used to end up buying us ice cream and chicklets from Woodlands.I sometimes wonder if my father played a major role in what I am today. I remember him painting my eyes with Kohl and applying nail-polish on my fingers. I have often heard my father say that he always wanted to do medicine but could not do it! That sounded rather depressing and to make his wish come true, we 3 daughters became doctors, my son and daughter are doctors, my elder sister's son is a doctor and my younger sister's daughter is also a doctor hence there are totally 9 doctors in our family.
It must have been a tough, illustrious journey, your thoughts on the same?
I had never travelled alone in my life and that too abroad to a far off place.  I was excited and didn't feel the least bit scared because I knew I had my teacher, my source of inspiration beside me. Unfortunately she was to travel to India for Christmas around the same time I reach Australia and I became nervous, wanted to cancel my trip even but my teacher made arrangements for me at Melbourne and instilled the confidence in me to go ahead with my plan. I was unfamiliar with the Australian accent so had a hard time following the lectures, the weather was so cold, food not compatible to my taste, the environment was very new and I was choking and upset that this trip was a total waste. Everything seemed strange and nothing went over my head, the manpower was so vast and people so knowledgeable, I was wondering how would I be able to do this in India. It was next to impossible and I was drowning in depression and terribly homesick. Upon my return to Madras after completing the workshop, my husband had given an insertion in the paper welcoming me back. I burst into tears totally humiliated. I had gained practical training but to set up an IVF lab, it needed expensive equipment, an experienced team and lots and lots of money. The very next day, I saw a big queue of women outside my consultation chambers, I was shocked. I wondered if I could live up to their confidence. I was losing hope. Amidst all this my father suddenly came to my house and said he was going to Maldives islands and I decided to accompany him. That trip helped me pep myself to return to Madras with fresh enthusiasm. I planned my next steps, took on the experimentation with breeding of mice. Every night I used to toss in bed thinking of my process and the patients. I used to talk in my sleep and suddenly sit up groping for case sheets. My husband used to get worried. I had to go to Singapore to buy the equipment I need such as the CO 2 incubator, laminar flow, Carl Zeiss microscope and was ready to start my toddler steps towards the making of a test tube baby. Hard work never fails, it always pay, though may not pay immediately but will pay permanently. I have heard and learnt this many times. It is only when your heart is satisfied with your work can you say you have reached great heights. I learned that God never lets down people who work for a good cause sincerely and honestly. The very first South Indian Test tube baby was delivered by cesarean. I realized that nothing in the world could stop my progress. Till this day my first test tube baby named "Kamala Ratnam" calls me up from Sundarapandiapuram on all auspicious occasions and talks to me. What more can anyone ask for in life?
The people in life you are thankful for?
My parents who gave life to me, my husband Dr.SFV.Selvaraj who gave me a helping hand, my children Dr.Deepu Rajkamal Selvaraj and Dr.Priya Selvaraj who waited eagerly for a loving touch of mine yet, never disturbed me in my work and above all my deepest gratitude goes to Lord Vinayaka, who blessed me immensely in all my endeavors.
Dr.Priya Selvaraj shares her experience at SPARRC…..
A good physician treats the disease but a great physician treats the patient who has the disease, This is a quote by William Osler and to follow it up with another one that signifies my relationship with SPARRC, medicines can cure but a doctor's inspirational words can give one immense inner strength and courage to face the dilemma.
I am starting my testimonial with these quotes from the perspective of someone who has always been into fitness and never had to really worry about injuries and rode her life on a wave of, should I say, overconfidence? But of course there will be a time for us to realize the wear and tear of our Skeleto-muscular system and the effects of our carelessness in performing certain common activities that we indulge in every day. So I ended up with a severe Gluteus medius strain and the impact of pain and very restricted mobility actually mortified me. I had work, conferences and travel all lined up. I did the usual round of SWD and painkillers that did little to relieve me.
One Sunday at a conference, as I sat very uncomfortably in my seat, after my presentation, a doctor who had been noticing my discomfort the whole time , came up to me and said, "I think you just need to visit SPARRC institute". I had been so evasive about going to an institute other than my usual round of Orthopaedic appointments that I simply nodded and assured her I would try. I had promised my kids a wonderful Christmas vacation in Finland and as my mobility took a turn for the worse I panicked and set up an appointment with Dr. Kannan Pugazhendi just two days before my intended trip.
The attending physiotherapy assistants meticulously took the history and presented the case after which Dr. Kannan examined me and explained the problem. He also told me that stress would have an additive effect and that while I vacationed I would do very well but when I got back the problem may creep up. Of course one cannot experience a complete or near complete cure without prescribed exercises and lifestyle modifications. Being a doctor myself I could easily relate to the requirements. Dr. Kannan had initiated me on physiotherapy for just 2 days with a note of encouragement. As predicted the trip went off smoothly and I returned to diligently follow the doctor's instructions and continued to finish my course of three months.
I came in with apprehension and self-doubt of recovery but went back with regained confidence and a much relieved gluteal region. I continued to follow their instructions through the year and then further involved myself into yoga and at present am doing pretty well.
Following my positive recovery, my mom Dr. Kamala Selvaraj also availed Dr. Kannan's services and experienced an improvement in her mobility.
I now know that I do not have to fear but can nip the problem at the bud with able guidance and support. I wish to thank Dr. Kannan Pugazhendi and his entire team of Physiotherapists for imparting a holistic care in rehabilitation with many benefiting from their healing touch.