Injury Prevention & Performance Enhancement Workshop For Dancers – Aug-Sep '12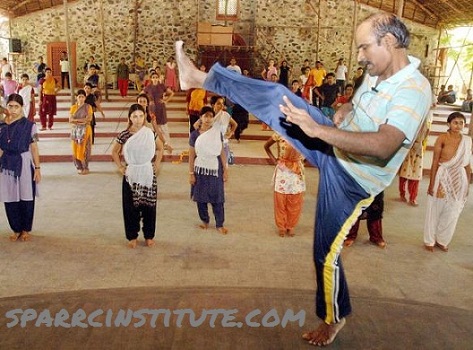 Why  dancers need special care?
In a week, at least ten dancers consult us for injuries. We have worked out a system for the dancers using Kalaraipayattu, yoga, & various other strength training techniques, as we always believe in holistic approach, integrating Sports Medicine, Yoga, Martial arts, Physiotherapy, Pranic healing and Acupuncture for fitness and  rehabilitation, this approach not only benefits sports related injuries but also covers dancers. Our Sports medicine expert Dr Kannan Pugazhendi has been treating dance related injuries Since 1990.
Did you know?  dancers sustain more injuries  because of the nature of complex postures involved. For example Odissi deals with more "twists" (than found in other classical Indian dances). Dance term Mudra means "stamp". Be it any form dance  western or classical, dancers do need special attention with regards to Injury prevention. This is where our preventive care helps dancers.
Sparrc Institute is glad to introduce  workshops designed specially for dancers. This event is a  3 days workshop focusing mainly on Injury prevention for the Odissi dancers. Click here to read more about Dance medicine workshop. Hurry limited seats only!
Event Details:

Fee :- Call us  (

group discounts available

)
044  32911774, +91 9790944607
Date :- 31st August, 1st & 2nd September (3 days)
Venue :- No. 311/122B, New Manikam Avenue, off TTK Rd, Alwarpet, Chennai- 18
Ph ;044  32911774, +91 9790944607
Workshop covers :
Need for Dance medicine, Dance training & Dance rehabilitation.
Warm up & cool down specific to dance.
Strength and Neuro Muscular training for dancers
Swiss ball & Core strengthening for dancers.
Dance and Nutrition.
Prevention of injuries in dance.
Dance first Aid.
Skeletally immature dancer.
Elderly Dancer.
Basics of dance Bio-mechanics and Psychology.
Dance & yoga / Pranayama.
Dance & Taichi & Chi kung.
Preparation for the concert & Travel.
Weight maintenance for Dancers.
Planning a training program for the dancers.
Periodization in dance
Not only dancers, since this is an educational event teachers, scientists, healthcare and medical practitioners can also participate and get benefited.