Doc is special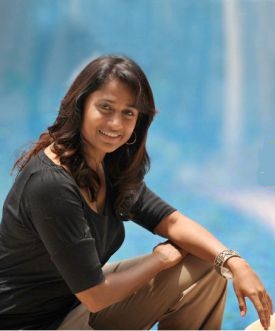 "Dr. Kannan or "Doc" as we all refer to him is a rare person indeed. He is a study in contrasts – he can be extremely patient with someone undeserving and at the same time extremely impatient with himself. He has great attention to detail and there are many good qualities he possesses that i can list. But to me the reason Doc is special is because he is LITERALLY the one who got me back on my feet.
This was 2004, and I was in bad shape, I have always been on the heavier side and the injury on the soles of my feet prevented me from working out and as a result i was overweight and feeling  generally low. My friend Banu had taken me to meet Doc at the YMCA. With his firm and steady help, I started jogging 100 mts at first and then slowly built it up to the 13 km that i know i can do today.
If anyone can be credited with rekindling my love for being fit, it is Doc.
He has this wonderful way of letting you have a taste of something new and then slowly drawing you in to learn it on a regular basis. – like he did with me when it came to Kalari. sometimes I think he doesn't even realize how much he motivates people around him.
He has this ability to reinvent exercises and make workout a lot of fun. But THE most important aspect of him is he is brilliant when it comes to setting injuries right.
Especially with me. My stunt injury was excruciatingly painful. I wasn't able to walk leave alone jog and this was last year. He took one look at me, made me stretch, manipulated my muscles and said "its nothing much don't worry " & rattled off what treatment i needed, to the people assisting him. I have a pretty high threshold of tolerance for pain and the pain brought tears to my eyes. Therefore to hear him say it was "nothing" made me slightly skeptical. But two days of physio and I was back on track – literally and figuratively. His skill is being able to identify the degree of seriousness of the problem.
I rely completely on Doc to take care of my injuries. In fact I tell him "I am going to do this. If I injure myself, it's your problem Doc, you have to set it right" and I know that he will."
– Anu Hasan – Cine Artist