Workshop on Vocal Fitness – April 2017
World Voice Day  – April 16th 2017
WORLD VOICE DAY on April 16th 2017, brings together the team at SPARRC headed by Dr Kannan Pughzhendi and Mrs Sujatha Pughzhendi and Playback singer , song writer, coke studio artist and wholistic vocalist mentor, Mathangi Jagdish for a 3 hour workshop on VOCAL FITNESS.
Mathangi, who has been working with Dr Pughazhendi and the therapists at SPARRC for over 2 years has been sharing her ideas and passion for spreading awareness about vocal health and the idea of artists perceiving themselves as ATHLETES. Her own journey of recovery from vocal health issues has been the driving force for this effort.
This workshop is an introduction to having a wholistic( mind body spirit ) approach towards vocal health and role of Fitness in maintenance of a healthy voice and also prevention of injury or issues.
Whether one is a student , an aspiring singer , a music reality TV show participant, part time musician with a day job , almost a professional or touring celebrity , the desire to have a more robust vocal instrument, one that doesn't wear out , better muscular strength, better cardiovascular ability and breath capacity, flexibility and stamina is common to all.
More often than not , FITNESS and NUTRITION get least importance when we think about matters related to the voice and singing.
This workshop is an endeavour towards disseminating pertinent information, an effort to create an environment of inspiration and offer tips that lead to real transformation .
On account of World Voice day SPARRC Institute is proud to conduct a workshop on Voice Fitness!!!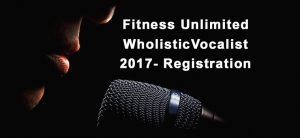 Workshop Name : WHOLISTIC VOCAL FITNESS ( by SPARRC INSTITUTE) in association with WHOLISTIC VOCALIST BY Ma.Ja
Event Date: April 16th, 2017 Sunday
Venue: Indian Institute of Sports Medicine (SPARRC Building) #936, Door no 116 , 6th Avenue, Annanagar, Chennai – 40
Contact : 044-65552530 / 9790944609 or sparrc@gmail.com
Speakers: Dr Kannan Pugazhendi, Singer Ms Mathangi, Yoga expert and Psychology counsellor.
Event Organisers: SPARRC Institute & Wholistic VocalistRegister here 
* LIMITED SEATS FOR LIVE SESSION