Advanced Taping WorkShop
TAPING…the magic word in the field of Physiotherapy, which helps each physio stand apart from the rest of the health professionals, also known theoretically by some as the most valuable tool in managing Musculoskeletal, Traumatic and Sports injuries could be a boon to you if you attend our workshop.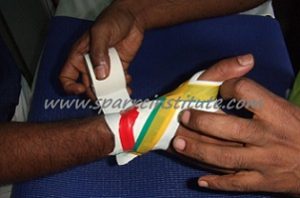 The opportunity given could be grabbed by today's Physiotherapists as hot cakes as this wonderful tool can be used to treat, heal and to prevent injuries. It helps in minimizing the risk of re-injury in the phase of Rehabilitation. It also helps to provide the necessary Proprioceptive feedback, which is very important in every aspect of treatment and recovery. The workshop aims at imparting not only knowledge of Taping to the Physiotherapists but also to teach principles behind application of each Taping technique. It also aims at making each delegate participating not only to learn but also practice it right there before receiving their certification. In Australia a Taping certificate would be issued only after 800 hours of practice.  The ultimate goal is that every Indian Physiotherapist should have this tool in their pocket so that this growing ever- advancing field of Physiotherapy benefits people in our country on par with the west and other advanced countries.
Course Content for the Taping Work Shop both Theory & Practicals:
| | |
| --- | --- |
| Theory | Practicals |
| Need Analysis | Techniques for the following conditions |
| Mechanics of taping | Ankle Sprain, Plantar Fascitis |
| Physiology of Taping | Fibular Derangement |
| Anthropometry of Taping | Tibialis Posterior Tendinitis |
| Type of Taping Material | Turf Toem, Hallux Valgus |
| Stretch Adhesive Taping | Achilles Tendinitis |
| Non Stretch Adhesive Taping | Medial Collateral Ligament Sprain |
| Classification of Taping | Lateral Collateral Ligament Sprain |
| Precaution | Morton's foot, Morton's neuroma |
| Pre Assessment | Anterior Cruciate Ligament Sprain |
| Preventive Measures | Pes Anserine Tendinitis |
| Storage of Taping Material | Patello Femoral Dysfunction |
| Terminology | TFCC Injury,  CMC Joint |
| Literature | Lateral Epicondylitis |
| Contraindication | AC Joint &  Shoulder Subluxation |
| Knowledge of Taping Technique | Supraspinatus Tendinitis |
All applicants will receive a Certificate of Achievement. For further information call us.