Swiss Ball Workshop at Bengaluru (Feb 2013 batch)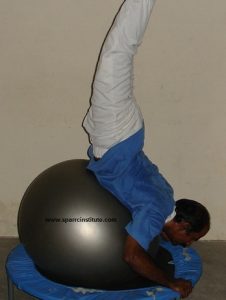 Workshop on a ball!
Thinking what we can do with a ball whole day?  Well the Swiss ball, Physio ball, gym ball or the exercise ball call it whatever, this simple equipment can do wonders in the field of rehabilitation and fitness. It was found in Italy in 1963 by Aquilino Casani. Later on, it was used by Physical therapists in Switzerland to assist with rehabilitation and became to be known as "Swiss ball". In these days it has developed and being used for various other components in fitness . This workshop will help you to handle various rehabilitative and fitness exercises for the athletes, geriatrics, pediatrics as well as the general population.
It's more fun, safe and highly effective way of training. It is far more versatile and valuable than for simply rehab use. Balancing exercises, Core training, Stretches and Yoga can also be done with it….
This weekend course consists of practical classes on Swiss ball exercises, this course is a must if you want progressive exercises starting from beginner level to advanced stability training
Swiss ball workshop on 10.02.2013 (Sunday)
Fitness enthusiast can also attend the program and get benefited!! Want to know more?? Join our workshop and get benefited!
Program Details
Course  :        Swiss Ball workshop
Timing  :     9.00 am to 4.00 pm
Date  :    10.02.2013 (Sunday)
Course fee   :    Call Us
Last date for registration    :      07.02.2013 (Thursday)
Eligibility   :    Physiotherapist,  Fitness trainers,  Fitness Enthusiast
Contact   :    +918147757741/ +919840637705
Venue   :    SPARRC INSTITUTE, #3347/B, 13th Main Road H.A.L 2nd Stage Indra Nagar, Bangalore -560008
E-mail: sparrc@gmail.com