SPARRC Famil Fest – You are invited! (Mar2nd)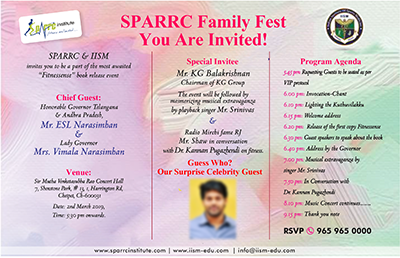 BE OUR SPECIAL GUEST!!!
Dear Patrons! It's time again for us to host an event! lots of beautiful music and an intellectual conversation on March 2nd 2019 5.45 pm @ Sir Mutha Venkatasubba Rao Concert hall (lady andal school), Chetpet. The most awaited book release of Dr.Kannan Pugazhendi. The show and the book is dedicated to all his students, ardent followers, teachers and Sparrc patrons. Call – 9659650000 and speak to one of us to allot the number of seats for you, your family and friends. :):):) Let's catch up for more merriment.