SCALING THE HEIGHTS OF HEALTH
Santhana Raman S, 70, the man with an indomitable will, talks of his experience with SPARRC
In February 2019, I was finding it difficult to climb stairs. I had a pain in the glute and thighs. During the nights, I used to experience shooting pain in the thigh muscles causing me to wake up and lie awake.
I then met Dr. Kannan Pugazhendi with my litany of woes. He pressed on pressure points and shot out instructions on the muscles to work on. It was ofcourse Greek and Latin to my layman's ears but his reputation and uncanny knack of arriving at a diagnosis and prescribing therapy made me confident.
I started at Besant Nagar SPARRC centre and under the able hands of Sri Venkatesh, I was soon on the road to recovery. After some sessions of therapy and specific exercises, I was totally relieved of my pain while climbing stairs and pain at night.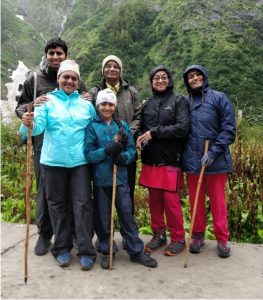 Sri Venkatesh recommended that I join the fitness program. I was little wary as my tryst with a gym few years back, had left me scared. There, they were trying to make me develop six packs in one day which left my muscles and ego bruised and battered.
Fitness trainer Jeya Prakash, assured me that the workouts would be done in a gradual manner. The progression in the last seven months has been smooth and painless. My wife and me feel more energetic and lovely throughout the day. All health parameters have improved. I do jogging at 7kmph speed now and my single pack in the abdomen has vanished.
My son wanted to take us to Valley of Flowers as my 70th birthday gift. Jeya Prakash gave special exercises like walking the stairs with weights and climbing up and down the bench. This gave us the confidence to try out the long desired Himalayan Trip.
The Valley of Flowers is at 12,000 feet and Hemkund Sahib is at 15,000 feet. We reached the base station at Ghangeria at an altitude of 10,000 feet. First day we went to the Valley of Flowers but I decided to trek down by foot on my way back. It was irregular path with boulders and small streams while climbing down.
Thanks to the training at SPARRC, I could trek down the path in about 3 hours with my son and daughter-in-law.
Next day we went to Hemkund Sahib by mules. As the names implies, there is a pond fed by glacier waters and a nice Gurudwara. At 15,000 feet, the place is surrounded by glaciered mountains and weather is unpredictable. For a minute everything is clear and visible and the next 10 minutes visibility is less than 10 feet. We decided to walk down. It was a thrilling walk surrounded by glaciers and lots of small flowers endemic to the region including Brahma Kamal, blue poppy etc. My son is an avid bird watcher and he had his fill of endemic birds. It took more than 5 hours of walking down in the cold weather and I was excited that I could achieve it at this age.
My heartfelt thanks to SPARRC without whose training, I could not have fulfilled two of my bucket list items!