Ollybelly
Olly Belly:  laying foundation for fitness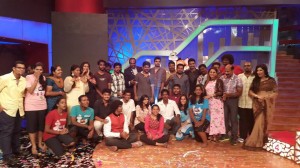 It all started two years ago, when Vijay TV collaborated with SPARRC to come up with  Olly Belly also called Olli Belly, the first ever reality TV show on weight loss.  Olly Belly was a mind blowing 100 days commitment for SPARRC to show results of weight loss, in which 14 contestants participated.  Prior to participation, all the contestants went through a fitness assessment test and then only were permitted to participate in the show. SPARRC developed a screening method to assess the participants and select the candidates for the weight loss programme. Today, the screening method developed by SPARRC for the TV show is used for our clients who wish to enrol themselves for Olly Belly, our weight management package.
The 100 magical days for Vijay TV, unfolded beautifully with Dr. Kannan's guidance. An expert in handling both the body and the mind he was a huge source of  inspiration. The programme, which gradually  toughened up the fitness regime day by day and his gentle approach to training  helped the contestants move on to next level gracefully and  reach their targets.
Shrikanth, one of the contestants, who lost 50 kilograms in 100 days is truly gratifying for us. Well! The success of OllyBelly was humongous. We didn't stop with just the reality show. We applied the same principles and protocol for our clients who come to SPARRC for weight loss and stay fit. Our holistic approach was to bring down the cholesterol level and diabetes if it was higher. The results were simply amazing. Want to know more on this? Read on to know more.
Rishi Dev Ratan who came to SPARRC after seeing Olly Belly in Vijay TV, was weighing 116 kilograms. He had a full time job working close to 10 hours per day. It was a challenge for us.  He started off with baby steps towards fitness which able guidance by Dr Kannan. He started off by jogging for half hour everyday, and gradually including other aspects of fitness as suggested by SPARRC. He lost about  42 Kgs in 100 days.
Our Olly Belly participant at SPARRC, 48-year-old, MRs Shyamala, says "I have Lost 9.5 kg in 100 days."
Sparrc is proud enough to proclaim to the world that Ollie belly program has helped about 67 young women to maintain their stature, fitness and get their marriage proposals successfully. It has changed the food habits of every individual who took part in it. It has led the pathway for physical and cardiac fitness thereby preventing future cardiac problems due to obesity.  Henceforth, Ollie belly program will definitely achieve its purpose.
A client Mr.Jayaprakash says, "I have reduced my weight from 108 kgs to 87 in 100 days. It has transformed my profession as an executive in bank into a fitness advisor in Sparrc institute itself."
Ms.Thendral who was thrilled by her weight reduction says, "It's not that Diabetes, Heart diseases and Obesity runs in your family, it's that no one runs" and "Kill the pain with workouts", were the two phrases made me to get motivated and do so much of hard work along with the SPARRCians. I've reduced more than 15kgs which I couldn't achieve when I did things on my own."
Is it okay to lose so much weight in a month? This thought was running in all our minds and we were concerned.
Dr.Kannan Pugazhendi says, "Reducing 2 to 3 kg per month is a healthy weight loss. Anything beyond this would definitely require medical supervision, as it may lead to loss of muscle mass."
Come and Experience that weight reduction is quite achievable with the help of Dr.Kannan Pugazhendi's Result Oriented Scientifically designed fitness program at SPARRC,  that would definitely help in transforming lives of many people suffering from lifestyle diseases like diabetes mellitus, Blood Pressure, High cholesterol, etc., and promote in developing physically fittest society.