Forever Young
A vivacious, enchanting individual who believes in holistic living speaks her heart to inspire and infect us with fitness. She is a multitasker projecting herself in different roles as a manager, mom, mentor, friend and her versatility adds to our amazement.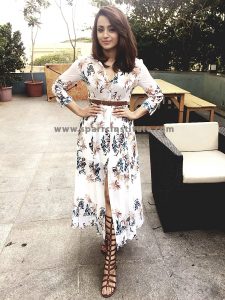 Despite her packed schedules she never misses a day of her fitness regimen. Now that's her secret suiting our title perfectly, Forever Young! Mrs. Uma Krishnan (Sparrc Fitness Enthusiast / Actor Trisha's Mother)
A peek into Mrs. Uma Krishnan routine…..
I was a working mom but ever since my daughter Trisha entered the industry i quit my job to assist her, because her schedule is crazy, erratic and i needed to be in sync with that to help her out. If you ask me, i will not be able to do what she does, but she believes in what she is doing and i will support
her right through. I handle all her dates, script sessions, bank work, auditors, running the house as a full fledged homemaker and thanks to SPARRC, at this age, I am fit to keep pace with my multi tasking lifestyle.
What brought you to SPARRC?
Well I visited SPARRC through a reference from my friend as i had a torn Rotator cuff and also had a knee issue that was bothering me and preventing me from exercising. I had visited many Doctors ,taken many tests and was written off saying I need surgery. When i met Dr.Kannan Pugazhendi, i was very happy he suggested Therapy and Rehabilitation without having to take medicines and instilled a lot of positivity in me. It matched my ideology of staying away from surgery
and medicines as well so i knew i had to give it a shot.
What is it that you find in SPARRC that you don't elsewhere?
SPARRC is very special to me. I say this because i know the Doctor is the best and apart from him, his team of Physiotherapists and Fitness advisors take the Doctor s guidance and follow him to the 'T'. When you have a problem they address it immediately on a day to day basis, which is what makes SPARRC different as other places don't have that facility. They might have a Physio who randomly comes and checks you but they do not address the problem as such.I know this as i have gone to other gyms too. At SPARRC the team is so well packaged, they are so patient with everybody and teach you the method the exercises are to be done, no compromises there, if your hand or leg has to be kept at a certain degree then it has to be kept at a certain degree, you cannot go beyond or below. They are very kind
in telling  you to start slow with a few repetitions but do them correctly and improvise as you go. Perfection is the key with gradual progression and when you blindly follow them with faith the outcome is bound to be good.At SPARRC they don't lean on medicines and believe in exercise as a permanent cure.
Does being a Celebrity mom affect you?
Am not very affected by the recognition actually, as i like to be one among all. Am a very friendly person and at some point when people do recognise who i am, then you lose that commonness which you have. My daughter has been in the industry for 15 years now and over a period of time you just learn how to handle it.
What keeps you motivated and driven to exercise?
Make it a habit. Like brushing your teeth, taking a shower make it a must, it is not easy but with effort it can become a regular thing. I plan my day around my exercise, be it my family, my auditors,my other correspondences…I make it a point to tell them don't try to reach me around this time as i will be exercising. Once im back home and have my shower ,yes am ready and can be bombarded with whatever is needed , am ready for it, because i have made exercise a very crucial part of my life.
Have you influenced your daughter likewise?
Yes, i have. In the beginning no, but later on it has rubbed of on her and she exercises as regularly as possible. It has become like a family thing now. I do get called a freak and at this age why do you want to exercise so much but have always said the older you are the more you need exercise, not to impress anyone but to stay healthy and active as long as possible.
Describe your everyday routine?
I start the day with drinking some cold water on an empty stomach and then get to walking my dogs, read up on the news, prepare things at home and get ready to hit the gym. Once am back again feed the dogs and then post lunch all my other official work , internet, house duties, grocery shopping,etc.
Your one weakness?
I have a sweet tooth. Am not much of a foodie. So i don't keep much sweets at home. Am not a big eater so i can stay pretty satisfied with a sandwich for lunch.
A Must have…..A cup of coffee. Earlier I used to have two or three cups but have reduced it down to one cup of South Indian Filter coffee that i make myself.
Do you set goals for yourself?
I am in competition with myself always. In terms of exercise i have come a long way. When i started off here in SPARRC I could hardly do the exercises even with light weight. I have been constantly progressing. Earlier i used to be able to do splits,when i was younger but post my knee issue had to stop them. Am back to trying it now thanks to my training at SPARRC.
What do you do for Fun?
I have friends with whom i go out , we try different cuisines, i like to travel, i do watch TV. I like watching shows like Game of Thrones , Friends, Greys anatomy, etc.  I enjoy the small thrills in life. I love my dogs. My daughter campaigns for Dog Rescuing, mainly strays, dogs who are old, abused, needing medical attention. We take them on and care for them. Our recent pet is Tank now renamed Zorro because he was found near water tankers. He was hospitalised for a long time due to his injuries. The challenge lies when you bring them home as they are scared and traumatised and act out of fear or anger.
Anything you would like to share to our readers?
Patience, be patient, trust the Doctor and his team at SPARRC and you will achieve recovery. We do not develop pain overnight and therefore should not expect it to disappear, instead put in your hard work, follow the Doctor s instructions and the teams guidance, might be painful but go through the grind and you will come out with flying colours. My Daughter Trisha wanted to share what she sees as well and quoted saying "Dr.Kannan Pugazhendi has definitely done wonders for my mom. She is pain free and happy now unlike earlier. Even when we travel around she copes very well and he must be surely amazing based on how much my mom
has progressed. My mom always talks about the trainers and what a lovely place SPARRC is to exercise. I am so happy she has SPARRC in her life."
Catching up with a woman who runs everyday is a huge task. One can be assured to be smitten by an avid exerciser such as her. We wish to have more influencers such as Mrs. Uma Krishnan  to lead us to a healthy future.