Aquatherapy
There are many facets to healing and one successful arm of treatment is AQUATHERAPY, which has been the backbone of our Dr.Kannan Pugazhendi's "Stay healthy regime".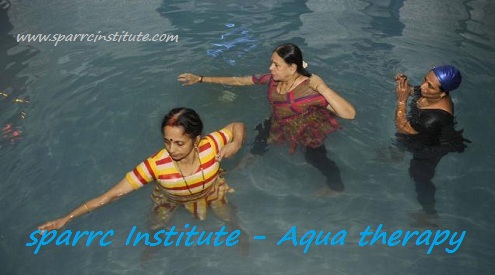 Aquatherapy or exercising in water helps a variety of people with their health problems. It does sound unbelievable but nevertheless is very much true. One must be wondering how exercising in water can be beneficial. Body weight is reduced by 90 per cent in water and buoyancy makes even the more difficult exercises doable. For instance people with knee problems are generally advised not to squat. In water, one can do all this and more without discomfort or injury and reap benefits such as improved muscle tone, balance, strength, muscular endurance and cardio respiratory endurance.
Who are the people ideal for Aquatherapy? Almost everyone, especially those suffering from knee pain, osteoarthritis, osteoporosis and those who are looking forward to avoid a joint replacement surgery to obtain relief. The geriatric population can experience improvement in strength and muscle tone. Those with Ataxia (which causes loss of balance) find they are steadier on their feet and those with respiratory problems are generally benefited as compressed water exits exhalation.
"Aquatherapy is definitely an enjoyable experience" as said by our Dr, who encourages everyone to shed their inhibitions and get into the water. Most swimming pools come with supports by the side thus making the experience a little less terrifying. At SPARRC all the exercises done in water are done under the guidance of trained physiotherapist. A person not used to swimming or water is advised to start Aquatherapy for five minutes and increase it slowly to one hour session. The exercises may seem gentle and easy but the after effect is mind boggling. The session always begins with a warm up. Half an hour of Aquatherapy is equal to an hour of walking or workouts in the gym.
SPARRC encourages and ensures recovery without pain through Aquatherapy. Call us to find more about the therapy.